Y'all wanted to talk to the Kentucky Hammer?
Desi Cullen is out of his mind. And I mean that in the nicest way possible. He's hilarious, even when he's not really trying to be funny. He's like a cross between Jeff Spicoli and Robin Williams; a shaggy-haired surfer dude with an endless supply of energy. A couple of reporters interviewed him today
at the media luncheon to get his feelings on returning home to Louisville to play on Saturday. What we got was a refreshing change. A genuine kid who is thrilled to be a part of the program, doesn't take himself too seriously and isn't afraid to laugh (or make others laugh). I liked him the instant he walked into the interview room and said, with a Southern twang, "Y'all wanted to talk to the Kentucky Hammer?"
Cullen was a diehard Louisville fan growing up, and attended many games at Papa John Stadium. His first dream was to play soccer for the school, but once he started kicking as a sophomore in high school he decided he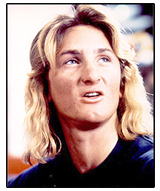 wanted to kick for the Louisville football team. Despite a successful high school career, Louisville never bothered to recruit Cullen. Granted, Cullen got a very late start in football. But he's looking forward to the day he can make them pay for overlooking him. Interestingly enough, Cullen became interested in UConn after seeing the student section on TV during last December's game with Louisville at the Runway. "I was the leader of the student section at our high school basketball games back home, and I wanted to go somewhere where the students went buck wild. So I sent them my tapes."
Read more about Desi in Wednesday's Register.
Some other notes from Tuesday....
Terry Caulley and Deon Anderson were selected to play in the Magnolia Gridiron Classic in Jackson, Miss., a senior showcase for non-bowl game participants.
Randy Edsall said Anderson is the team's best senior NFL prospect, maybe more for his ability to play special teams. He'll most likely take the free agent route. Speaking of UConn prospects, I know at least one NFL scout who has been salivating over William Beatty since last season.
Darius Butler says he's ready if need be at quarterback. He's spent the last two weeks learning to run a limited offense. He was a pretty dangerous option quarterback in high school in Florida. A few Division I-A colleges: Florida Atlantic, South Florida and Central Florida, all recruited Butler as a QB. Edsall said he's capable of running a limited offensive set. The third-string quarterback for Saturday? Yep. It's Terry Caulley. Freshman walk-on Matt Vollono wasn't considered for any of the back-up roles, Edsall said. Think he needs a lot more seasoning.